Topology optimization in additive manufacturing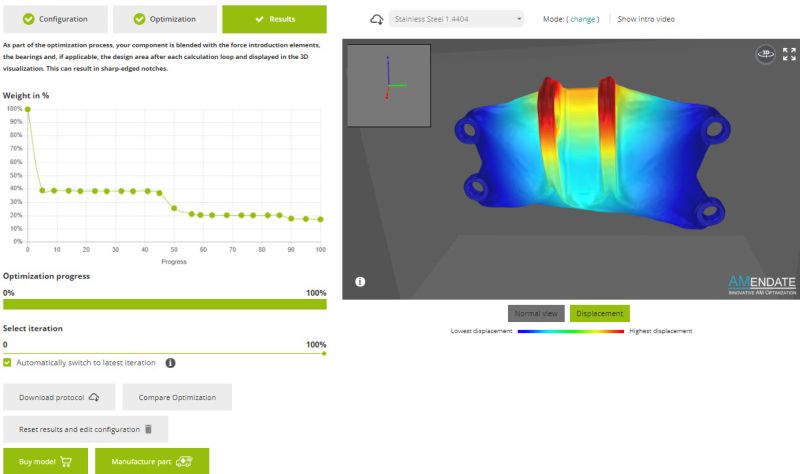 Topology optimization in additive manufacturing
Additive manufacturing offers new ways of improving the geometry of components in product development, since it is not bound to process-related restrictions, as is the case with conventional production methods. Topology optimization enables modification of basic shapes with consideration of defined framework conditions and stress restrictions, thus combining maximum functionality with minimum material consumption and the lowest possible weight. With PROTIQ, you can easily and quickly optimize your 3D models online.
How does topology optimization at PROTIQ work?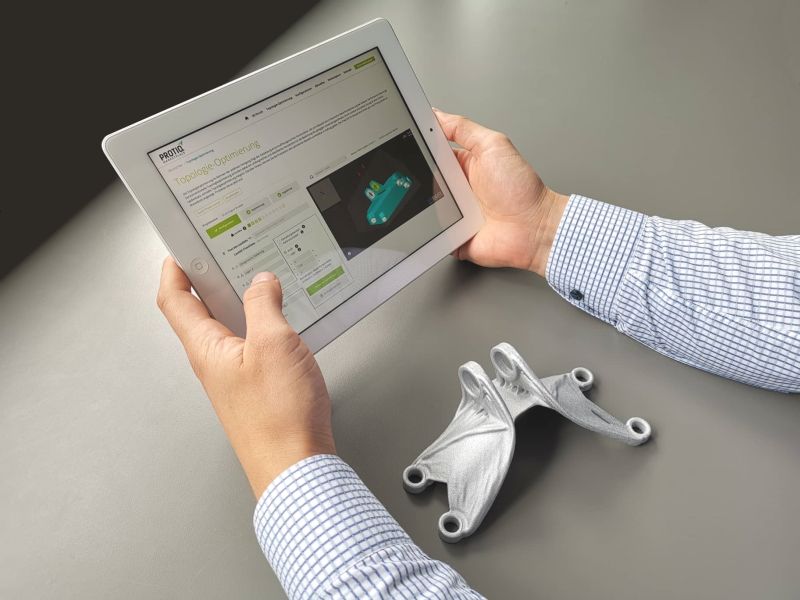 Define design area
The first step is to define the maximum design area available for the optimized geometry. Here, you can define an unrestricted space and thus allow for optimized structures wherever they are required based on the flow of forces. Alternatively, you can also limit the design area to ensure the optimization process is applied within a defined space. This limitation is advisable if the available space is limited by adjacent components within a module (e.g., engine compartment of a car). For the limitation, it is necessary to create and upload a maximum design area.
Define load cases
Once the design area has been defined, different load situations that the application object is subjected to – so-called load cases – are then studied. A load case describes a situation in which different forces can act simultaneously and includes the existing bearing points. A model can have different load cases. The software then analyzes the forces on the model and the bearing conditions. All areas that are not affected by the load and that have no further use are then removed from the 3D model in the next step. The result is reminiscent of bionic structures and combines maximum functionality with minimum weight and material costs.
New possibilities through additive manufacturing
So far, constructors and designers have always been limited by process-related restrictions during product development. With additive manufacturing, however, a component is not processed out of a single block material but rather built up layer by layer from a formless starting material. This enables product developers to focus fully on functionality when designing an object. This means that challenges and problems in 3D design that are common in conventional processes are thus solved through 2D-layered structures in 3D printing. The combination of topology optimization, additive manufacturing, and innovative materials offers companies new possibilities to rethink the design and associated functionality of products. Topology optimization bears significant benefits in industries where weight reduction plays a major role, e.g. the automotive and aerospace industry.
Advantages of topology optimization and 3D printing on the PROTIQ platform

Requirement-oriented product development
Maximum weight reduction (lightweight construction)
Resource-saving through material savings
Intuitive user interface with the possibility of guided input
Huge time savings in defining the optimization configuration and goal
Effective time and cost saving with the PROTIQ online tool
Our online tool simplifies and speeds up topology optimization significantly. Previously, the process required extensive knowhow in dealing with special application software and often took days to complete simple applications. With our online tool, long waiting times are now a thing of the past – optimizing a 3D model is now purely intuitive and possible with just a few clicks. This helps you save both materials and time – while retaining maximum quality of your products.
Once you have created your optimized 3D model using the tool, you can save it as a draft, purchase it as a model, or order it directly from PROTIQ. Your component is then manufactured in industrial 3D printing through selective laser melting or laser sintering. Particularly practical: The price of your project is updated constantly and displayed in your shopping cart.

Test our online toolBook a personal consultation appointment
Are your 3D files ready?
Just upload your data. All files are automatically checked and optimized for printing.